The Intel Extreme Masters, a highly competitive tournament circuit for the game CS:GO, will begin its year with the IEM Katowice 2023 on February 1. 24 teams from around the world will compete in Katowice, Poland for a $1 million prize pool and the title of IEM champion. Of the 24 teams participating, only 8 have qualified for the main event (Group Stage and Playoffs) so far. The remaining 8 teams will be determined through a tournament called Play-Ins, which will include 16 teams.
Format
The IEM Katowice 2023 Play-Ins will use a double-elimination bracket format. The initial 8 matches will be best-of-one, while all subsequent games will be best-of-three. The top 8 teams will advance to the Group Stage, with 4 teams in each group.
---
Schedule
The Play-Ins for IEM Katowice 2023 will be a two-day event. By February 3, the top eight out of the sixteen teams will cement their spots for the main event, which is scheduled to begin the next day, February 4.
The opening matchups for CS:GO's IEM Katowice 2023 Play-Ins are as such:
FURIA vs. Permitta
BIG vs. Complexity
Fnatic vs. Evil Geniuses
Sprout vs. OG
Spirit vs. Grayhound Gaming
MIBR vs. Ninjas in Pyjamas
ENCE vs. paiN Gaming
IHC vs. Cloud9
ESL is yet to announce the complete schedule and timings for the IEM Katowice 2023 Play-Ins.
These are the opening matchups of #IEM Katowice 2023
8 of these teams will advance to the Group Stage, the others will have to wait another year for a shot at making history in the Spodek Arena
It all starts on February 1st!
Cheat Sheet: Play-In Stage of CS:GO's IEM Katowice 2023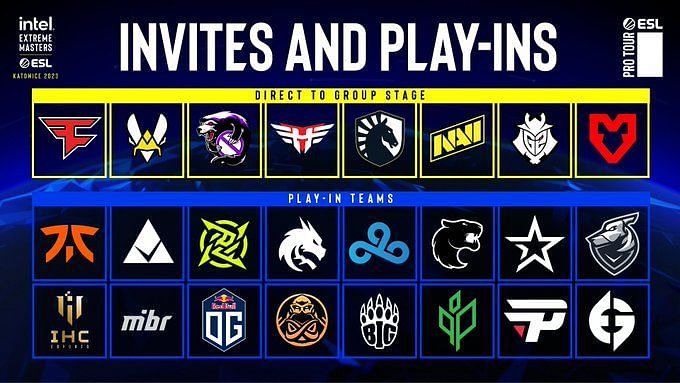 Teams
All 16 Play-In teams and their expected CS:GO rosters for the IEM Katowice 2023 are listed below:
Ninjas in Pyjamas
Fredrik "REZ" Sterner
Hampus "hampus" Poser
Ludvig "Brollan" Brolin
Aleksi "Aleksib" Virolainen (IGL)
Danyyl "headtr1ck" Valitov
Daniel "djL" Narancic (Coach)
Team Spirit
Leonid "chopper" Vishnyakov (IGL)
Boris "magixx" Vorobyev
Robert "Patsi" Isyanov
Pavel "s1ren" Ogloblin
Ihor "w0nderful" Zhdanov
Sergey "hally" Shavayev (Coach)
Cloud9
Vladislav "nafany" Gorshkov (IGL)
Dmitriy "sh1ro" Sokolov
Sergey "Ax1Le" Rykhtorov
Abai "HObbit" Hasenov
Timur "buster" Tulepov
Konstantin "groove" Pikiner (Coach)
Complexity Gaming
Ioannis 'Johnny' "JT" Theodosiou (IGL)
Justin "FaNg" Coakley
Ricky "floppy" Kemery
Michael "Grim" Wince
Håkon "hallzerk" Fjærli
Tiaan "T.c" Coertzen (Coach)
FURIA Esports
Yuri "yuurih" Boian
Andrei "arT" Piovezan (IGL)
Kaike "KSCERATO" Cerato
André "drop" Abreu
Rafael "saffee" Costa
The FREE expo returns to #IEM Katowice 2023!
Expo visitors will be able to experience the CS:GO & SC2 championships on a first come first serve basis
Read more here
MIBR
Raphael "exit" Lacerda (IGL)
Matheus "Tuurtle" Anhaia
Breno "brnz4n" Poletto
Henrique "HEN1" Teles
Felipe " insani" Yuji
Bruno "BIT" Lima (Coach)
IHC Esports
Garidmagnai "bLitz" Byambasuren (IGL)
Sodbayar "Techno4K" Munkhbold
Baatarkhuu "Bart4k" Batbold
Bat-Enkh "kabal" Batbayar
Tengis "sk0R" Batjargal
Tuvshintugs "ANNIHILATION" Nyamdorj
Erdenedalai "maaRaa" Bayanbat (Coach)
Grayhound Gaming
Simon "Sico" Williams
Joshua "INS" Potter (IGL)
Alistair "aliStair" Johnston
Jay "Liazz" Tregillgas
Declan "Vexite" Portelli
David "Kingfisher" Kingsford (Coach)
OG
Shahar "flameZ" Shushan
Nemanja "nexa" Isaković (IGL)
Adam "NEOFRAG" Zouhar
Maciej "F1KU" Miklas
Abdulkhalik "degster" Gasanov
Casper "ruggah" Due (Coach)
ENCE
Marco "Snappi" Pfeiffer (IGL)
Paweł "dycha" Dycha
Pavle "maden" Bošković
Alvaro "SunPayus" Garcia
Valdemar "valde" Vangså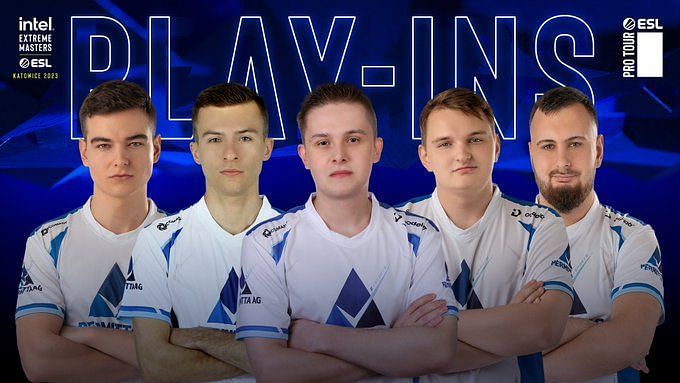 BIG
Johannes "tabseN" Wodarz (IGL)
Florian "syrsoN" Rische
Josef "faveN" Baumann
Karim "Krimbo" Moussa
Nils "k1to" Gruhne
Fatih "gob b" Dayik (Coach)
SPROUT
Victor "Staehr" Staehr
Laurențiu "lauNX" Țârlea
Rasmus "Zyphon" Nordfoss
Ismail "refrezh" Ali (IGL)
Adrian "XELLOW" Guță
Danny "BERRY" Krüger (Coach)
paiN Gaming
Vinícios "PKL" Coelho (IGL)
Rodrigo "biguzera" Bittencourt
Wesley "hardzao" Lopes
Romeu "zevy" Rocco
Felipe "skullz" Medeiros
Henrique "rikz" Waku (Coach)
Evil Geniuses
Vincent "Brehze" Cayonte
Timothy "autimatic" Ta
Jadan "HexT" Postma
Sanzhar "neaLaN" Iskhakov (IGL)
Jerric "wiz" Jiang
Daniel "Vorborg" Vorborg (Coach)
Fnatic
Freddy "KRIMZ" Johansson
William "mezii" Merriman (IGL)
Nico "nicoodoz" Tamjidi
Fredrik "roeJ" Jørgensen
Dion "FASHR" Derksen
Jamie "keita" Hall (Strategic Coach)
Permitta Esports
Patryk "OLIMP" Woźniak
Rafał "sNx" Snopek
Dawid "Layner" Falczyński
Rafał "iso" Tync
The stage is set for #IEM Katowice 
Feb 1-3: Play-In Stage

8 teams advance, 4 to each group
Feb 4-7: Group Stage

Top 3 teams per group advance to the playoffs in the Spodek Arena! (Feb 10-12)
Which group is more stacked? Who's joining them from the play-in stage?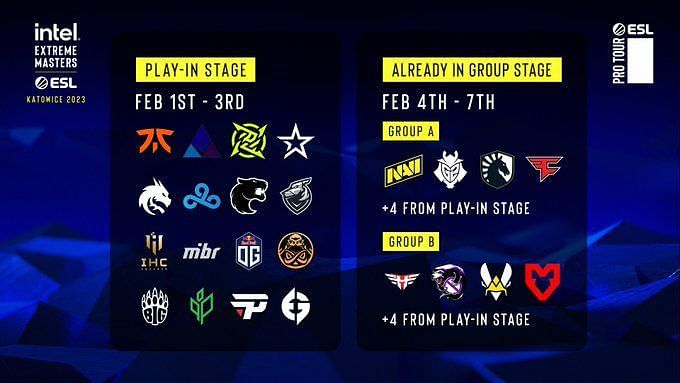 Last Updated on January 27, 2023
BetAnySports
Receive up to $500 in with a 30% Cash Bonus to play sportsbook and casino. Best prices in industry with less juice promo.